MFRD Responds to House Fire at 433 Indian Park Drive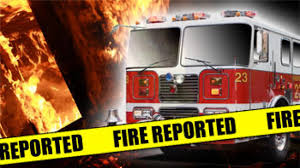 MFRD Responds to House Fire at 433 Indian Park Drive

Murfreesboro, TN—Murfreesboro Fire & Rescue Department's Districts 1 and 2 and Rescue 9 responded to a house fire at 433 Indian Park Drive around 8:45 Thursday morning.

A passerby called Police and Fire Dispatch and said there was smoke coming from the dryer vent and they could hear the smoke alarm going off in the house.

When crews arrived on scene, they discovered heavy smoke exiting the west side of the home. Crews made entry, located the fire in the utility room, and began an interior attack.

No residents were home at the time of the fire. However, when crews were inside, they were notified that there was a dog near the garage in a crate. Unfortunately, the dog did not survive.

Crews are still on scene at this time conducting salvage and overhaul. Fire damage was contained to the utility room of the home, but there is smoke damage throughout.

The Fire Marshal's Office is also on scene and will be conducting a routine investigation.

It is unclear how many residents live at the home, but they will most likely be displaced due to the electric meter being pulled.

More information will be released as it becomes available.
From MFRD FaceBook Page